How to Take and Organize Photos
Take the Photos
Please be sure to take Photos of malfunctioning points of your Equipment. Maximum number of Photos is 70.
Section
Details
Standard Number of Photos
Appearance
Diagonally from right front, left front, right rear and left rear.
Features (if any).
4~
Engine
Radiator, Oil leak, Water leak, and Blow-by etc
~10
Upper Sturacture
Working-units, Operation-Device, Mater, Hydraulic-system
~20
Swing Device
Swing-table
~5
Under Structure, under-carriage
Track-frame, Travel-device, Shoe, Roller etc.
~20
Extra Parts/Attachment
Parts, Attachment etc.
5~
Plate, Engravd
~6
Arranging the Photos
1
Import Photos to PC and Reduce Photos
・Make folders for each equipment in your PC in advance
・Import in the folder to photo of equipment
・Reduce their size by a software on the market (or free software)
Free Software Homepage for your information:https://freesoft-100.com/review/shukusen.php

2
Select the Photos in the folder by the section (Whole Body, Engine, Upper Structure, etc.).
※Select Photos with pressing Cntl Key + mouse clicking.
3
Give each of the group of Photos (selected by the section) file name of "a", "b", "c" and so on.
※By pressing F2 Key (Change File Name), it is possible to change the file name of a group of photos.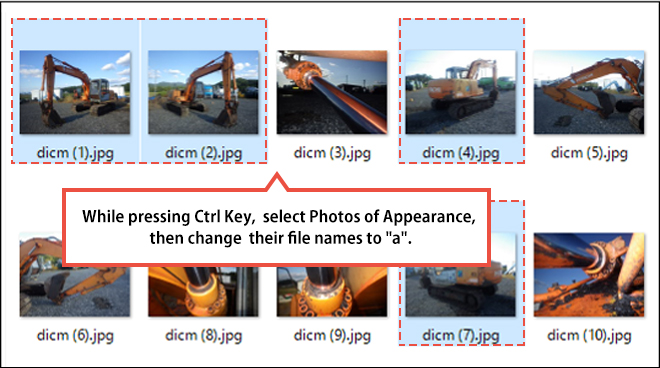 4
Compress arranged Photos by the folder (by the equipment). (right-click)

5
Send the compressed file by attaching it to a return E-mail in reply to the temporary Application Form JEN sent you
Samples of Photo